Upcoming Events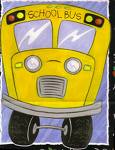 Conferences March 5th and 6th
Conferences will be held on the 5th and 6th. As a result, there will be a 12:40 dismissal on both days.
PANDAMONIUM - March 11th
The Second Grade classes have been learning about Pandas with Mrs. Higgins. We have been doing this as an extension to our China unit. We will be acting like Pandas by rolling, crawling, and tumbling in gym class. Please wear all black and white (and sneakers) to help celebrate this exciting day. Also, remember to check out the Panda Cam to see what real pandas are doing at the San Diego Zoo.
Chinese New Year - Date to be announced
The Second Grade classes will be wrapping up their unit on China in early April. We will be having a Chinese New Year celebration. We will enjoy a meal and have a dragon parade. Parents are invited to attend. A date will be announced at the end of March, and a note with more details will be coming home. Gung Hay Fat Choy!